As you grow older, you will discover that you have two hands, one for helping yourself, the other for helping others.  ~Audrey Hepburn
People & horses: a powerful combination.
Cyprus Hippotherapy Centre is the perfect example of this combination. The centre serves as a place where horses can heal you through hippotherapy sessions. It is located on the outskirts of Dali in Nicosia.
What is Hippotherapy
It is a physical, occupational or speech therapy treatment strategy that utilizes equine movement. This strategy is used as part of an integrated treatment program to achieve functional outcomes.
Hippotherapy is not a horseback riding lesson. It is a specific therapy, which is approved by a physician and implemented by a team that includes a professional therapist (occupational therapist, physical therapist or speech language pathologist) in conjunction with a competent horse handler and a specially screened and trained therapy horse.
There is direct hands-on participation by the therapist at all times. The horse's movement is essential to assist in meeting therapy goals.
What is the goal of Hippotherapy?
To improve neurological functioning in cognition, body movement, organization, and attention levels to improve function off the horse.
A one-on-one treatment generally occurs until the client meets discharge criteria. In hippotherapy, the treating therapist continually assesses and modifies therapy based on the client's responses.
The horses are able to create wonderful things, even miracles. They have this incredible ability to remind you to breath, to settle down and to reassure you that everything is going to be ok.
These animals give H O P E to broken people; to innocent souls. They H E A L invisible wounds, giving them their life and daily habits back.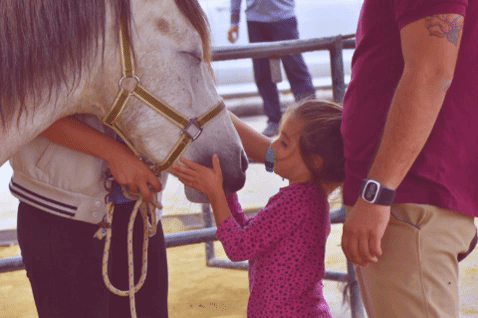 Cyprus Hippotherapy centre is doing a great work with children and adults of any age. For me it is a powerful team that is changing lives on a daily basis. If you want to find out more about Hippotherapy just find them on Facebook and visit the centre on a Wednesday or a Saturday to see yourself some miracles in the making. You can also check out the video I created for them:
| Share this video to spread awareness |
#hippotherapy #physiotherapy #awareness #healingtherapy #horses #powerful
---
Creative Concepts by Aimerlavie
FB: https://www.facebook.com/aimerlavieco/
Instagram: https://www.instagram.com/aimerlavieco/
Website: https://aimerlavieco.wordpress.com/
---
Healing with Horses | Cyprus Hippotherapy